The Maytag Schultess Battle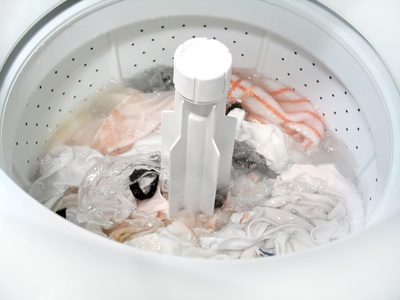 ---
I am not housewife material. My idea of housekeeping is to hire a housekeeper. In Miami I sent my clothes to the Chinese laundry. One day later, I picked up neat little packages measured to perfection, tied with a pink ribbon and topped with a bow; pants in one and undergarments in another. All for the amazing price of $10.00. Now that's my idea of doing the wash.

Not so in Switzerland. They even name the laundry room the "wash kitchen" and believe me, it takes oodles of time. You are there longer than a sous chef spends creating culinary masterpieces in a professional kitchen.

Day 1 Maytag vs. Schultess
I had just arrived in Switzerland, my husband was back at work and I was living in a 3 bedroom townhouse with one mattress, one stereo, Tina Turner's Private Dancer" and Prince's "Purple Rain. My furniture had taken the oriental route to Switzerland.
What was there to do? The wash. So I carried my overflowing red plastic clothes basket down three flights of stairs to the "Waschküche".

I saw one machine which I assumed was the dryer, but where was the washer? I met my machine and let me tell you it was not a Maytag – it was a Schultess. Where were the dials "polyester" permapress, whites etc.? And where were the load sizes? Most importantly, where was the door, not at the top? Bling, the light blinked faintly in the darkness of my brain. This is the washer not the dryer. The teenincy glass bull's eye is the door which opens in the front, not at the top.

Challenge 1- Washology
My first challenge was to read the instructions which happened to be in German, French or Italian. My solution to this problem was to call hubby at work but I couldn't do that AGAIN. Determined, I began my assault on how to conquer the Schultess monster. I won the battle of Celsius versus Fahrenheit, deciphered the squiggly pictures and whipped the Schultess monster into gear. Victory. Integration has obviously redefined my definition of success.

The lights came on and the display read "1.55". Was that hours? You've got to be kidding. My Maytag was a short distance maschine - 20 minutes max. I checked my watch, it was 10.45. I left the machine and returned at about 2pm. You won't believe it but the marathon washer was still running. That was the longest two hour cycle in history.


Challenge 2 – No Dryer
At 3.pm my next challenge occurred. I didn't have a dryer. What did I do? For the first time since kindergarten when I had begged my mother not to hang our underwear on the clothesline for the entire world to see, I had to hang my wash on the line to dry.

At 4pm it rained. I moved the once damp and now drenched clothes back into the "Waschküche" to dry overnight. Now I know why women here didn't work – it took all week to get the wash done.

Day 2
I got smarter. Or so I thought. The next morning I started earlier, at 10am. I came down at 12.00, the machine was dead. I smacked buttons, yanked and tugged but the door wouldn't budge. Somehow, I read the emergency instructions for opening the door. And I did. A perfect waterfall cascaded out of the machine onto the floor, out the cellar door and into the entrance hall. My developing wash IQ and I concluded the cycle wasn't finished and I now understood the difference between a top loading Maytag and front loading Schultess. I spent the remainder of the day mopping up the flood waters.

Day 3
If at first you don't succeed try, try again - which I did. I became the washing machine KGB. I watched those clothes go round and round until 11.00 when suddenly the machine simply went to black and shut off.

I had enough of that damn machine and grabbed the phone so my husband could help solve another calamity. "Schätz, I snapped, "This stupid washing machine is broken - again. It quits working before the load is finished. I am so sick and tired….. You have to call the repairman – today!"

"Did it stop at lunch time?"

"Yeah. Do you have secret skills I don't know about or do you have cameras in the house - how did you know that?"

"Simple, they turn off the electricity to the washers from 11.00 – 14.00 every day.

"Huh Why?" I was dumbfounded (no - not just plain dumb).

"To save electricity," he said as if this was the most common fact in the world. "Most of the Hausfrauen are cooking lunch and to keep from overloading the electricity net, they cut off the source. "

You are kidding me, who is they, how do they do it, can they see in my house? Are we in Moscow, I thought but simply said "Well you could have told me."

"I thought you knew," the most famous and dangerous Swiss response.

Now pray tell, how would I ever know that?

BEWARE of these very dangerous Swiss sayings:
I thought you knew….
I thought you knew how to…….
It's no problem
When you hear any of those sentences head to google, ask around - prepare yourself. Find out whatever you can about the current topic… if it's not too late. Believe me, if you don't you will find yourself in some kind of predicament.
Vickipedia
offers a complete collection for your entertainment.
But honestly, here are some
practical tips:
When you move into a new community ask at the "Gemeinde" if the electricity is turned off during lunch.
If you move into a new apartment building, ask what their procedures are.
Ask for your times and days for washing – every apartment has set times.
How often and are any other times open for emergencies - I know of a family of six that had washing days every 2 weeks.
Are there washer and dryer connections in your apartment?
*If you don't speak German, take the German copy of this article with you and have them write down Ja/Nein, the times and days next to the questions.
*Plan, lots of time to get the wash done.
Just remember, only when we take care of the small things in life, are we given the bigger and better challenges.
Are you ready for the next challenge?
If anyone has had similar experiences that other readers can learn from, I would love to read your comments below. I just love the old cliché "Misery loves company."