Cooking Asparagus Almost Like a Swiss
Have you ever tried to peel cooked Asparagus?
---
Imagine sitting down to dinner in a simple alpine restaurant. A platter of white asparagus drizzled in hollandaise sits on a warming tray. Cantaloupe wrapped in smoked ham and a basket of bread right out of the oven are waiting to be devoured. That is Spargel Ziit in Switzerland from mid- April until 24. June.

On my first trip to Switzerland, my husband and I visited a typical village restaurant. The beautiful flower boxes hid the cracks in the facade. I wasn't expecting much. To my surprise, they served me an XXL plate of white asparagus, bathed in melted butter and topped with fresh morels. Yum! To round it off, we drank a crisp St. Saphorin from the French part of Switzerland. That's what I call paradise.



Recreating the experience in the USA
Back home in Miami, I wanted to recreate that scrumptious dinner for my husband. I went to a gourmet shop in Miami. Remarkably I found everything I was looking for.
The saleswoman asked me, "How many grams of morels honey?"
I said, "I'll take a pound – that way I will be sure I have enough." She smiled. After that, I bought asparagus. She asked how many? "Give me a couple of pounds please." She smiled. Wow, don't you love it when the sales personnel are friendly?

$$$$$$ - Swiss shopping in the USA
The only item missing from my list was a Swiss white wine. I was so proud of myself when I found one. Okay it was expensive at 45 CHF and that was 30 years ago. "It's for a special occasion" I thought. Unfortunately I am suffering from a temporary memory loss, I don't remember what the special occasion was. What I do know is how much the menu cost. I paid $25 dollars per pound for the asparagus, $65 for the morels, plus the wine. The tab came to $135 before sales tax for a meal for just the two of us. Worse still, I had to cook it myself. Math was never my thing.


Surprise - How not to cook asparagus
I could not wait to see my husband's reaction to my surprise Swiss dinner.
I set the table, lit the candles and opened the wine - no corkscrew needed. As I poured him a glass I said proudly, "Look sweetie, I even bought you a Swiss wine!"

"Where did you find it?"And the Swiss in him asked, "How much did you have to pay for it?"

"I paid $45, but since it was a special occasion I decided I would splurge."

Shocked he said, "You paid $45 for a 6 CHF Fechy ?" Uh, oh.

Then he looked at the quantity of morels I bought and his eyes resembled a slot machine. Dollars igns replaced his irises. Hey I paid - not him.

I was looking forward to his first reaction. He bit into the asparagus , chewed much too long and put his fingers in his mouth and removed the partially chewed asparagus. The rest he spit on his plate.

"Oh my goodness how rude. He has hideous table manners," I thought to myself.


Then he asked, "Vicki did you peel the asparagus?""Uh no. Nobody told me I had to." I never peeled green asparagus. Have you ever tried to peel cooked asparagus? I found it impossible.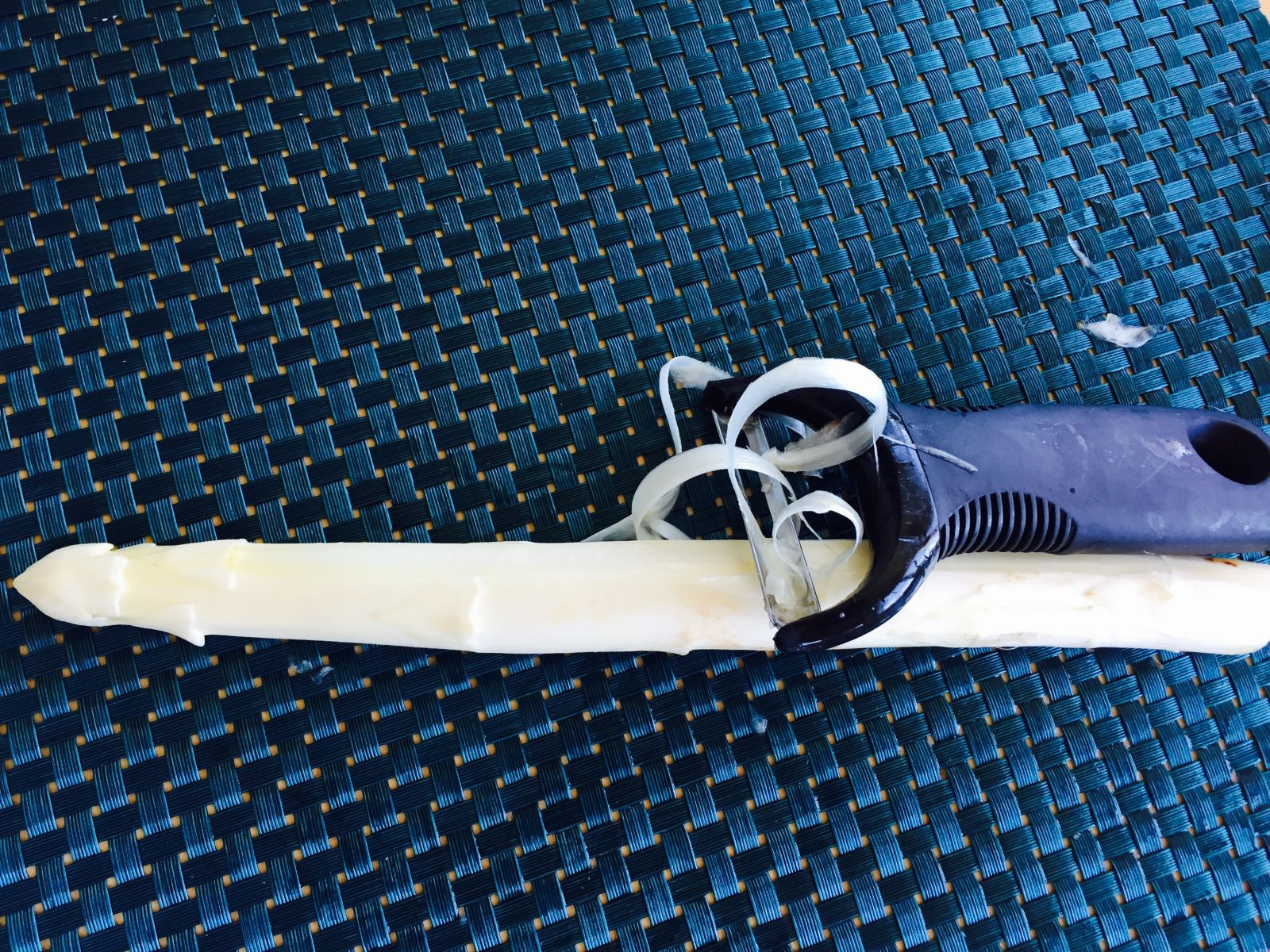 This was the most expensive menu I have never eaten.

If you want to surprise a loved one with their favorite menu, may I suggest you do a little research first?
I recommend using a recipe before you go Chez Chef and establish your own creation. It will save you a lot of time, money and embarrassment. It might taste a little better as well.

I have upped my culinary skills in the last 30 years. You too can create asparagus magic with these easy to make recipes .

I would love to have you join me as I stab, not pick, white asparagus in Spargel Ziit.

Let me know how you enjoy your asparagus and maybe you are willing to share your secrets with us.

Copyright Vicki Gabathuler 2016