Top Ten East Swiss Mountain Lakes
These lakes are my favorites and all are in East Switzerland or Graubünden. Ten good reasons to visit us.
---

I hope ya'll have enjoyed the new Swiss summer. Can you ever remember having great weather from May until August - and so hot? The summer is not over yet and the heat has upped the lake temperatures from the freezing to refreshing. What better way to cool off and enjoy the last rays of summer than splashing about in a mountain lake in East Switzerland or Graubünden? I tried diving into a mountain lake once, I thought I had suffered a concussion but my extended family set me straight. They said it was just a case of stupidity.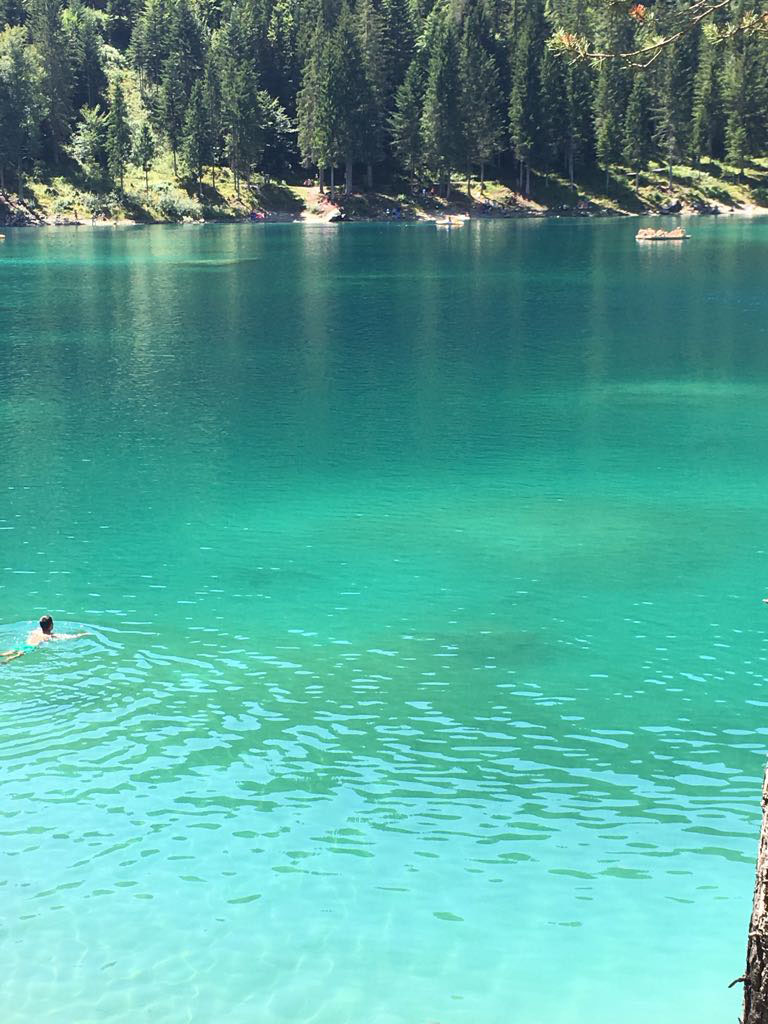 Favorite 10 Lakes in East Switzerland
Pack some cervelet, paprika chips and your favorite thirst quencher in your back pack and head to one of our idyllic lakes. Whether you fire up the grill, swim, hike or just chill, in or out of Mother Nature's pool, one of these favorites is sure to please.

Caumasee - Flims. My favorite color is turquoise and so is my favorite lake. No Photoshop necessary. The lounge is great to relax and have a drink. Swim to the island, play beach volleyball, stand up paddle board, enjoy the playground or simply be lazy. www.caumasee.ch
Heidsee - Lenzerheide. My kid's favorite. The little ones can board the Huck Finn style raft, play in the pirate's ship or try their skills on the climbing wall. Families, teens, sailors, beach volleyballers and sun worshippers won't be disappointed. www.lenzerheide.com
Crestasee in Trin is often times overshadowed by its neighbor the Caumasee, but this lake hidden in the forest is just as gorgeous, less crowded and quieter.
Laaxersee - This town center is a swimming lake and event location. Land activities such as outdoor movies, plays and concerts complement the action on the water. It's your chance to jump on a trampoline in the middle of the lake.
Walensee is a natural gem. The lake is bordered by cliffs up to 1000 meters and in spring the waterfalls drop 720 meters into the fjord like lake. The Walensee is one of the deepest lakes in Switzerland – and one of the coldest. But that doesn't bother the wake boarders and wind surfers who love the lake. Walenstadt , Murg and Wesen all have beaches to plenty to offer. Find your favorite spot. www.heideland.ch
Klöntalersee - The tiny lake surrounded by the Glarner Alpen.
Bodensee – is the largest lake in the German part of Switzerland and it offers the biggest opportunities; water skiing, sailing, paddle boats and more will get you moving. I love the "beach" by the pool in Rorschach or the Strandbad in Arbon. But there are so many options. www.bodensee.eu.
Schönbodensee - Wildhaus. A small "badesee" for the entire family. www.toggenburg.org/sommeraktivitäten.
Voralpsee – Grabs. The peaceful little lake in Grabserberg is surrounded by forests and peace. Do you fish? Fishing is allowed. A bit above the lake is a fantastic Gästhaus built in the early 1900's. My secret tip for "Wild Essen" in autumn.

Chapfensee

– Mels. Hikers, bikers, fisher and swimmer love this tiny lake above Mels
Photo Karen Landolt Kinderland Heidsee in Lenzerheide
©
Copyright Vicki Gabathuler 2017